Black Sabbath is considered the quintessential metal band. They are in fact the first "true" metal band and the pioneers of what we call doom metal. However Black Sabbath's history is one of ups and downs. After Ozzy's departure in 1979 Black Sabbath went through several stylistic changes. The first was with Dio (RIP) in 1980 with more of a traditional heavy metal style.
After Dio left in 1982, Former Deep Purple frontman Ian Gillan joined in and Black Sabbath took another turn.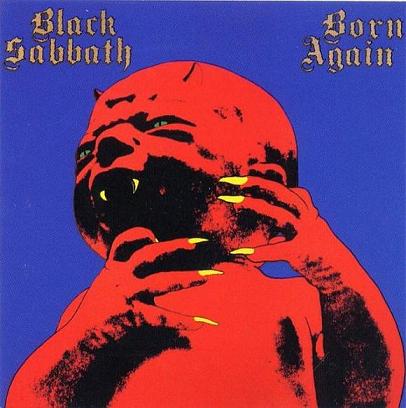 1983's Born Again is an interesting album. Being a big Deep Purple fan I adore Ian Gillan's vocals, and the songs on here are classics. Iommi's riffs are straight up heavy metal with a sort of hard rock edge, similar to Deep Purple. Songs like Zero the Hero and Disturbing the Priest are slower, groovier and almost frightening. Songs like Digital Bitch and Trashed are faster and have more of a rock edge to them. Their are also two instrumentals and the title track Born Again which is more softer and ballad-like yet it doesn't detract from the album at all. The diversity on this album is one of its strengths. A song like Zero the Hero is something I can hear Ozzy singing on.
What this album suffers from is production. The bass is apparent in some songs but buried in others. The snare sound is very bland and the cymbals seem detached from everything. The guitars have a nice tone but they are soaked in a lot of reverb and lack a heaviness to them. Other then that, this is a solid album. While not a master piece like Heaven and Hell, Paranoid or Sabbath Bloody Sabbath, it is a Black Sabbath album and a good one at that.
No download.